Called "One of the most unique theater troupes in the country." by Good Day Atlanta, and direct from its successful sold out performances in Orlando, Atlanta, Baltimore, Ocala, Deland and Eustis with its third touring show, Phantasmagoria is proud to be presenting their next main stage installment of this long running series PHANTASMAGORIA VIII "The Chains of Fire" to celebrate the 2017 Halloween Season and its eighth year in Central Florida!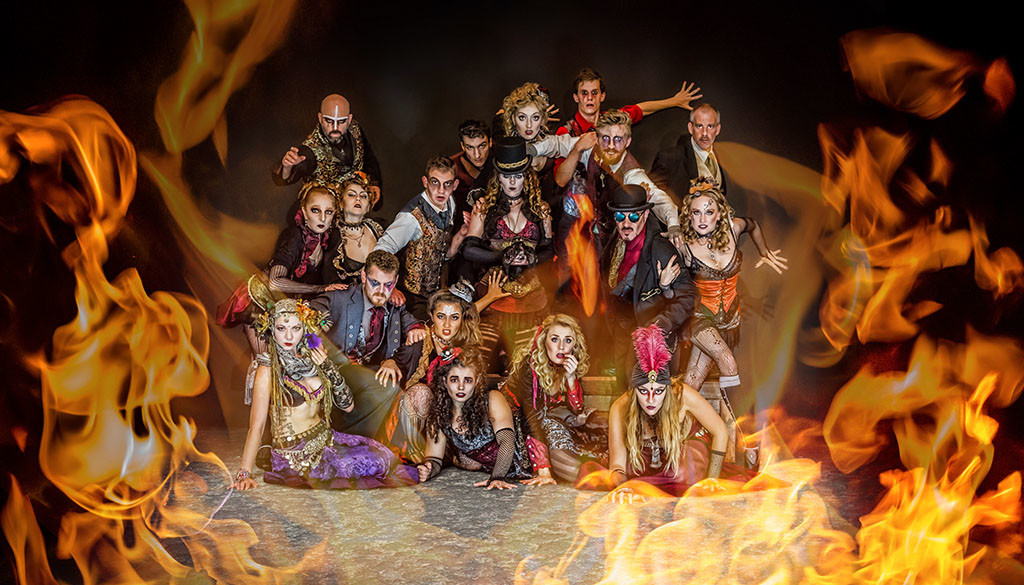 With the ongoing critically acclaimed success of the past seven year's installments – as well as special events and appearances throughout the year– the brand new PHANTASMAGORIA VIII thunders on to the Mandell Stage at the John and Rita Lowndes Shakespeare Center with all new stories of terror! Live performers, "Phantastical" dance, explosive stage combat, large scale puppetry, aerial performance and haunting storytelling combine to create a tapestry of macabre and whimsical horror!
Join Phantasmagoria's evocative troupe of storytellers, dancers, and chorus as they embark on their newest and perhaps darkest journeys yet through literary tales of terror, and horrific folk stories, legends, and myths. Enter with us into dark tales from the likes of Edgar Allan Poe, HG Wells, Robert Browning, Lord Byron, Charlotte Perkins Gilman among many others – all to set the tone for a truly Phantasmagorical Halloween season!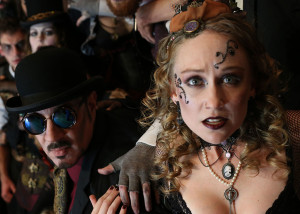 This year Phantasmagoria also shakes up our Special VIP Experience! The VIP show will occur BEFORE the main stage show on select nights only (Fri/Sat nights and Halloween) as we introduce our "Phantasticaly Phantabulous Sideshow Extravaganza!" Specialty acts, special guests, and appearances by members of the Phantasmagoria troupe weave together to start the evening off in the best and darkest of ways! This year all VIP seating can be RESERVED (for the first time) upon coming to the door to ensure prime seating for all our VIP guests. At the end of the show, the VIP audience member will also be treated to a final encore especially designed for them! VIP also includes a glass of wine or soft drink, a take home gift and more!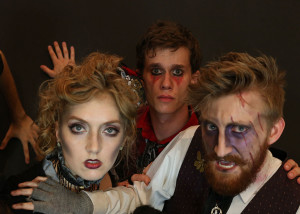 Under the creation, writing and direction of John DiDonna, with co-direction by Seth Kubersky, and Kevin G. Becker, the choreography of Mila Makarova, Serafina Schiano and others, fight direction by Bill Warriner, all new original music and soundscapes by Les Caulfield and Tod Kimbro, lighting by Jerry Klein, costumes by Shelly Henriott, projections by Dana Mott, and with photography by Chris Bridges, Graphics by Ozelle Sabado, and puppetry/props by Darkvale Studios and Halfmoon Creative Works this new installment presents us with a truly "Phantasmagorical" way to spend a macabre, whimsical, and terrifying Halloween!
In addition to our main stage production, Phantasmagoria will be high profile this whole season well into November with ongoing events and appearances so look for us throughout the year!
WHO:             Phantasmagoria/DiDonna Productions
WHAT:           Phantasmagoria VIII "The Chains of Fire"
WHEN:           Oct 13th – Nov 4th 2017
All evening performances at 8:00pm (Box opens at 7:00pm/VIP Show experience at  7:20 / VIP Theater Entrance at 7:50 followed by General Admission seating)
Oct 13, 14, 20, 21, 22, 23, 27. 28. 29. 30. 31, Nov 3, 4
Special MONDAY Performance on October 30th @ 9:00pm only
NOTE: VIP Show Experience only available Friday/Saturday nights and Halloween
General Admission and Student/Senior/Military available on all nights.
WHERE:         The Mandell Theatre, John and Rita Lowndes Shakespeare Center
Loch Haven Park, Orlando, FL
PARKING:      Lot on site, additional lots and street parking in close proximity
TICKETS:       Student/Senior/Military Admission – $15.00 / General admission – $25.00
Student/Senior/Military VIP Admission – $30.00 / General VIP Admission – $40.00
(VIP Admission includes Pre Reserved Seating, VIP SideShow performance, wine or  soft drink, a take home surprise, and more! – Available only Friday/Saturday and Halloween nights)
TO PURCHASE TICKETS:
WILL CALL/CASH ONLY AT DOOR reserve by calling our hotline at 407-476-5121
(Leave name/number/date of performance and number in party – you will be called back only if there is a problem with your reservation)
CREDIT CARD PREPURCHASE – www.orlandoatplay.com
For further information contact our box office email: phantasorlando@gmail.com
Our most recent reviews of our tour show "Wickedest Tales of All"
"The entire atmosphere changes. You can feel the hairs on the back of your neck standing up as though there is someone right behind you. . . This is a high-quality production with veteran performers, intricate puppets, amazing steampunk costumes and professional video work." – Lania Berger, Orlando Sentinel
"The players in Phantasmagoria embody – and dramatically emote – these stories in their signature way, including animated backdrops, puppetry and dance, all completely captivating the audience . . .This was the circus every punk and goth kid wanted to run off with in their childhood." – Danny Garcia, Watermark
". . .they've become masters at quietly placing that cold, dank hand on the back of your neck in that dark theater, just when you least expect it." – FreelineMediaOrlando
They were spectacular to state the least. Between the ghoulish onstage story telling, the dark 19th century style wardrobe, the eerily wonderful choreographed dancing, and the overall Nightmarish captivation that the troupe seemed to hold over the audience, I could and would go back to see them again and again. – Nightmare News