March 17 – 20,  Baltimore MD
"One of the most unique theater troupes in the country."
— Paul Milliken, Good Day Atlanta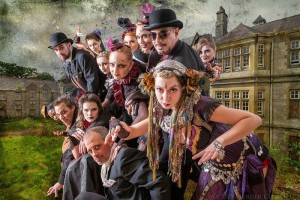 The critically acclaimed Victorian Horror Troupe PHANTASMAGORIA, in collaboration with Theater Project, will present its signature touring show, Wicked Little Tales, in a limited engagement, March 17 – 20, at Theatre Project, 45 West Preston Street, Baltimore.
Wicked Little Tales will thunder onto the stage of Theater Project with its haunting and whimsical stories of horror, "Phantastical" dance, live music, explosive stage combat, large scale puppetry and enthralling storytelling.
Join this evocative troupe of storytellers, dancers, and chorus as they embark on their journey through their most popular tales of terror from diverse authors such as Edgar Allan Poe, Lewis Carroll, Charles Dickens and many others including horrific folk tales, legends and myths from around the world.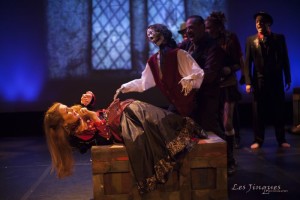 Stare into the darkness of Poe's classic The Raven; journey to another continent as we live the Bantu tribe's tale of the orphan boy Adjani – and his darkest revenge; laugh out loud at the cannibal appetite of Dickens' own Captain Murderer; cower in a thunder filled room as a figure of darkness draws close in Varney the Vampire or The Feast of Blood; and come face to face with Lewis Carroll's Jabberwocky – a creature better left to the imagination – and much more including new surprises in store for Baltimore audiences.
With the ongoing critically acclaimed success of the past six years' installments in Orlando, Florida – as well as ever popular special events and appearances throughout the year – the PHANTASMAGORIA Baltimore production will feature the "Best Of" the last six years of sold out shows that have enjoyed rave reviews.
"Who doesn't love a wicked good story? Especially when it's told with acrobatics and puppets and dance and staged combat (and occasionally open flames), presented by a bunch of performers who throw themselves with gusto into their Victorian-era gypsy storyteller roles" – Orlando Weekly
"You may think you've done theater… but you've never done theater like THIS! . . . Phantasmagoria truly incorporates every conceivable aspect of art and performance. Most importantly, they do it so well. . . a magnificent masterpiece that flows like a cascading sea – natural, smooth, and simply breathtaking" – Dawn Sabato, ComeSeeOrlando.com

Under the creation and direction of John DiDonna, with additional direction by Seth Kubersky, and Kevin G. Becker, the
choreography of Mila Makarova and Dion Leonhard, fight direction by Bill Warriner, and all original music and soundscapes by Les Caulfield, costumes by Shelly Henriott and projections by Dana Mott, this new installment presents us with a truly "Phantasmagorical" way to spend a whimsical, macabre and exhilarating evening of theater. www.phantasmagoriaorlando.com
Wicked Little Tales
March 17 – 20
Showtimes:
March 17 @ 8pm
March 18 @ 8pm
March 19 @ 2pm & 8pm
March 20 @ 3pm
Tickets:
General Admission – $22
Seniors/Artists/Military – $17
Students – $12
Box Office: 410-752-8558.
Ticket link: http://www.theatreproject.org/Shows/WickedLittleTales/
Please click below to purchase tickets.