Phantasmagoria Orlando and DiDonna Productions/Empty Spaces Theatre Co(llaboration) Presents the Ocala, FL and Eustis, FL Premieres of the Critically Acclaimed Victorian Horror Troupe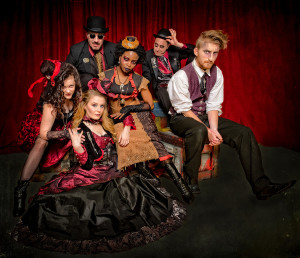 Orlando, FL – After wowing audiences at the Orlando Fringe with the premiere of  the wildly successful second touring show "Wickeder Little Tales" the acclaimed Victorian Horror Troupe PHANTASMAGORIA, will tour PHANTASMAGORIA's "WICKEDER LITTLE TALES" with one night performances in Ocala, FL at the Reilly Arts Center on July 9th, and Eustis, FL hosted by Bay Street Players at the Historic State Theater on July 16th

PHANTASMAGORIA's "Wickeder Little Tales" will thunder onto the stage with its haunting and whimsical stories of horror, "Phantastical" dance, live music, explosive stage combat, large scale puppetry and enthralling storytelling. Join this evocative troupe of storytellers, dancers, and chorus as they embark on their journey through their most popular tales of terror, horrific folk tales, legends and myths from around the world.
Be driven mad by Edgar Allan Poe's classic tale of horror and dread The Tell Tale Heart, frolic into the devilish and bloody escapades of the Grimm Brother's How The Children Played at Slaughtering, hurtle full speed along as the Galloping Hessian is hard on your hooves in Washington Irving's The Legend of Sleepy Hollow, and by the glimmer of the half-extinguished light, see the dull yellow eye of the creature open in Mary Shelley's Frankenstein and much, MUCH more as Phantasmagoria's Victorian Horror Circus takes the stage with a vengeance!
With the ongoing critically acclaimed success of the past seven years of ongoing original shows – as well as our ever popular special events and appearances throughout the year – "WICKEDER LITTLE TALES" will feature the "Best Of" stories and dances from sold out shows – all in newly re-imagined versions.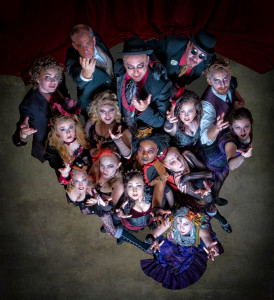 Under the creation and direction of John DiDonna, with additional direction by Seth Kubersky, Kevin G. Becker and
Chris Prueitt, the choreography of Mila Makarova and Serafina Schiano, fight direction by Bill Warriner, all original music and soundscapes by Les Caulfield and other artists including Tod Kimbro, costumes by Shelly Henriott, lighting by Jerry Klein and projections by Dana Mott, this new installment presents us with a truly "Phantasmagorical" way to spend a whimsical, macabre and exhilarating evenings of theater!
WHO:  Phantasmagoria Orlando/ DiDonna Productions
WHAT:   "Wickeder Little Tales" Touring Show

AGE:   Phantasmagoria "Wickeder Little Tales" is appropriate for all ages. Due to horror elements, children 8 and above is suggested.
WHERE/WHEN:   One Night Limited Engagements

Reilly Arts Center –  500 NE 9th Street, Ocala, FL 34470
Saturday, July 9th @ 7:30 PM  – TICKETS: $20.00 Gen Admission
Bay Street Players/Historic State Theater 109 North Bay Street, Eustis, FL 32727
Saturday, July 16th @ 8:00pm – TICKETS: $16.00 Advance / $18.00 at the door
PHANTASMAGORIA ORLANDO
Selected Reviews and Media Quotes from Shows and Special Events
 "WICKEDER LITTLE TALES" – our current touring show

" . . . captivating and bewitching. . .Using music, dance and some of the finest story-telling I've seen, the cast of "Phantasmagoria" resurrects these haunting stories from the canon of Victorian literature." – Lania Berger, Orlando Sentinel
"Twisted and engaging, Phantasmagoria: Wickeder Little Tales is a production that shouldn't be missed." – Harry Sayer, Orlando Weekly
"As always, the Phantasmagoria production is stylish, well acted, and done with a great deal of wit and innovation." – Michael Freeman, Freeline Media Orlando
"If you have a taste for the macabre then Phantasmagoria is the show for you." – Thomas Thorspecken, Analog Artist Digital World
"WICKED LITTLE TALES" our first touring show
"The amazing world of Phantasmagoria Orlando,. . . one of the most unique theater troupes in the country." – Paul Milliken, Good Day Atlanta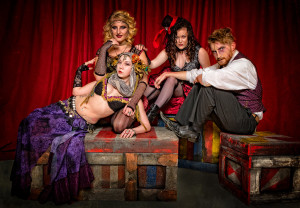 "You may think you've done theater… but you've never done theater like THIS! . . . Phantasmagoria truly incorporates every conceivable aspect of art and performance. Most importantly, they do it so well. . . a magnificent masterpiece that flows like a cascading sea – natural, smooth, and simply breathtaking" – Dawn Sabato, ComeSeeOrlando.com
"This touring edition of Phantasmagoria combines humor and horror in a steampunk, goth production that shines." – Thomas Thorspecken, Analog Digital Artist World
"Who doesn't love a wicked good story? Especially when it's told with acrobatics and puppets and dance and staged combat (and occasionally open flames), presented by a bunch of performers who throw themselves with gusto into their Victorian-era gypsy storyteller roles" – Orlando Weekly
ADDITIONAL REVIEWS OF PHANTASMAGORIA ORLANDO
"Something wicked this way comes in the form of Phantasmagoria,. . . this pastiche of stylish costumes and scary stories is quite good at being wicked. . . Scary never seemed so stylish."   – Matt Palm, Orlando Sentinel
"Phantasmagoria presents an adventurous outing, where you have a lot to keep you watching – the expert dancers, the actors, the costumes and puppets."  –The Ledger
"Phantasmagoria blends literature, dance, puppetry and poetry into a wonderful post-modern theatrical tapestry."  – WESH.com
". . .to enchant your spirit and captivate your senses. . . there's no better trick or treat in town."  – Al Krulick, Orlando Weekly
"As the tension continued to build, like a kid, I came away feeling – C'mon, scare me again!"  – Josh Garrick, Winter Park Observer
"A realm of beauty, elegance and just the right amount spookiness . . .it was one of my favorite productions of the year! . . .The show is so rich in storytelling, beautiful sets, gorgeous costuming and amazing performers . . .Gorgeousness and Gothic, Don't miss it!" – Denna Eramo, The Daily City
". . .One of the most fiendishly clever nightmares you'll ever tumble into. And when it's over and the lights have come up, and you're no longer sitting in the eerie darkness, you'll likely to remember just how invigorating and stimulating brilliant theater truly can be." – Michael Freeman; freelinemediaorlando
"It would be a fiendish, horrific tragedy if you didn't get to see Phantasmagoria."  – Thomas Thorspecken; Analog Digital Artist World
"It's just friggin' amazing." – Carl Gauze; INK 19
". . .a theatrical world of its own design, unique in theme and boundlessly creative." – James Tutten, Jet Media
"Phantasmagoria brought such a unique and entertaining dynamic to the Red Chair Affair . . . They are truly a hidden gem in Central Florida"  – Autumn Schaefer Ames, Executive Director Arts and Cultural Alliance
". . .another astounding show filled with storytellers, dancers, and chorus based on tales of terror from Edgar Allan Poe, Lewis Carroll, Charles Dickens, among folk tales, legends and myths." – Michael Gavin; InsidetheMagic.net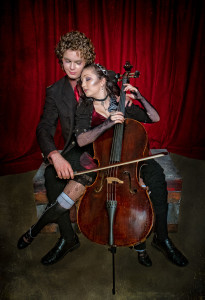 FACEBOOK: facebook.com/PhantasmagoriaOrlando
INSTAGRAM: @PhantasmagoriaOrlando
TWITTER: @PhantasOrlando
(NOTE: All promo photos of "Wickeder Little Tales" by Barry D. Kirsch)