Phantasmagoria Orlando is available for bookings 12 months a year, ready to bring an air of the "Whimsical" or the "Macabre" to your very special event.
Be it a private or public party, fundraiser, convention, wedding or corporate event  – large or small – Phantasmagoria Orlando will be there to lend our  unique "Phantasmagorical" touch for you and your guests. We have a large variety of entertainment options, as well as offering Customized Performances to meet your needs.
Phantasmagoria is available for:
MC/Barker/Hosting
Walk Around/Atmosphere/Immersive Characters
Sword Swallowing
Fire Performance (Fans/Staff/Palm Torches/Breathing/Eating/Parasol/Swords)
Belly Dance
Aerial Performance
Live Music performances
Stilt Walkers
Magic
Juggling
Sideshow "Phantastical, Phantabulous Sideshow Extravaganza!"
Stage Combat
Customized Weddings (with Officiant)
Photo Ops
Children's Shows (30 – 45 minutes)
Mini Theatrical Shows (30 – 60 minutes)
Full Theatrical Shows (60 – 90 minutes)
In and out of state Tour Shows (All New "Wickedest Tales of All" to premier May 2017)
Contact: Use the contact form below, or email  bookings@PhantasmagoriaOrlando.com , for further information and to book your event!
(NOTE: We also partner/collaborate with many local businesses to bring you a wide variety of services! Inquire when contacting!)
"We love having Phantasmagoria at Orlando Zombie Ball! Their costumes and atmosphere really help set the ambiance for the night, and their fire-dance and stage performances always dazzle and excite the crowd. Their presence plays a huge part in making OZB so much more than just another Halloween party!" – Graham Jarrett, Publisher, Orlando Weekly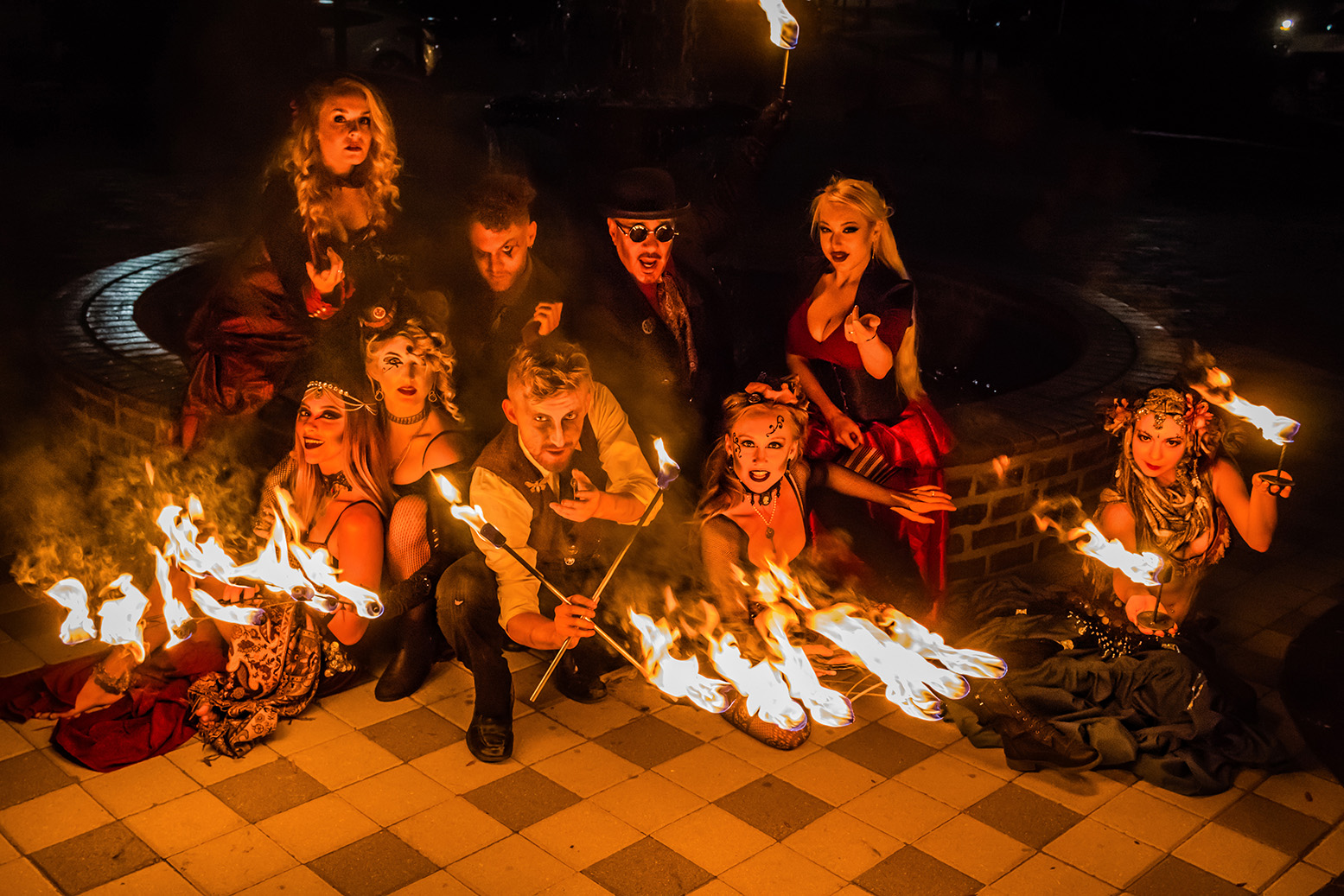 Phantasmagoria in Sanford . Photo by C. A. Bridges
Reviews
"We love having Phantasmagoria at Orlando Zombie Ball! Their costumes and atmosphere really help set the ambiance for the night, and their fire-dance and stage performances always dazzle and excite the crowd. Their presence plays a huge part in making OZB so much more than just another Halloween party!"
– GrahamJarrett, Publisher Orlando Weekly
"Phantasmagoria never ceases to amaze me. Working with them is a pleasure and watching them is a thrill. Truly one of the most brilliant and unique entertainment groups today. They know what they're doing and they look good doing it!"
– Sabrina Ambra, Co-Host "The News Junkie" iHeart Media Real Radio, 104.1
"To a crowd of over 10,000 people, Phantasmagoria brought their unique brand of entertainment to the Artlando stage for a stunning performance, but also took the time to work the grounds of the Festival and interact with the audience face to face. This troupe can do it all."
– Michael Marinaccio, Producer Artlando Live
"Phantasmagoria was an incredible and immersive experience, for all ages! The professional troupe of actors took us through some of the greatest literary works of the genre with humor and horror. The audience really seemed to laugh and die right along with the characters of each episode. The pre and post show interactions were great endcaps to the performance, and by the end, EVERYONE wanted to become part of Phantasmagoria!"
-Renee Gilliland, Convention Services Manager Sheraton Orlando North Motel
"Phantasmagoria brings something new to the table and John's troupe never fails to enthrall my attendees. They are a mysterious, ethereal delight with talents ranging from fire performance to sword swallowing, wrapped in amazing Victorian and Steampunk garb."
– Jim Cara, Creator Deland Comic & Collectibles Show
"Phantasmagoria brought such a unique and entertaining dynamic to the Red Chair Affair. After seeing their performances patrons were always amazed by the talent of the performers and the uniqueness of the group. They are truly a hidden gem in Central Florida"
— Autumn Schaefer Ames, Executive Director The Arts and Cultural Alliance
"The artful presentation, the professional yet playful characters and the quality performances provided a magic excitement. The costumes add just the right vintage touch to add mystery and the fire breathers left me breathless. I heartily recommend the excellent quality, artful performances that Phantasmagoria provides."
– Dawn Schreiner, Illustrator and Visual Artist, Art & History Museums-Maitland
"Our visitors love having performances from Phantasmagoria!  Their unique and entertaining show brings an exciting element to the library."
– Christine Lindler, Programs and Promotions Development Manager, Orange County Library System
"Phantasmagoria has added an exciting and mysterious element to the Creative City Project. They are fun to work with, they provide a unique and interesting experience, and our audiences love them!"
– Cole NeSmith, Executive Director Creative City Project
"John DiDonna and Phantasmagoria Orlando did more for the personality of SF:SE 2015 than I ever imagined they would. . . .I'd have them back in a heartbeat, and I encourage everyone to go see the show, as many times as you can."
– Rachel Litt, Conference Director SFSE2015
"It's always a special event when the Phantasmagoria troupe show up! Your fire-breathing performers were the perfect way to add some pizzazz to our Art Walk night in Sanford. The trio were so engaging with the public, looked smashing, and were supreme professionals in every way. Thumbs up from us!"                                                         -Mary Shaw, Gallery Manager Jeanine Taylor Folk Art Gallery
"Having the Phantasmagoria Fire Dancers greet our guests at the 2016 Pride Gala was a great way to get the excitement and momentum started from the moment they stepped out of their cars. I couldn't be happier with the performance and professionalism of the troupe and I look forward to the next time I can incorporate them into one of my events."
– Deb Ofsowitz, Come Out With Pride Board Secretary, Pride Gala 2016 Committee Chair
"This year's Steam Machine, First Thursday event at the Orlando Museum of Art was made more spectacular thanks to the performers of Phantasmagoria, who presented a wonderful show of fire breathing beauties, a mesmerizing sword swallower who shocked the crowd, captivating live music, and more. Their mingling with the crowd throughout the night helped bring more steampunk atmosphere to the already charged event."
– Jusnel González, Brassroots Leather Owner, and event Chairman
"Through an often riveting and poignant execution, flawless direction, beautiful musical pieces as well as a spellbinding choreography, the incredibly talented Director John DiDonna and his talented cast and crew woo you into the world of Phantasmagoria which spooks and mesmerizes.. . Phantasmagoria is one of the strongest creative endeavors ever engendered in Orlando; a true gem I personally cherish and will celebrate for years to come."
– Coralie Claeysen-Gleyzon Creative Director / Curator
"Working with Phantasmagoria was an amazing experience from day one. . . .Having Phantasmagoria perform at our 8th Annual Conference this year was HANDS DOWN the most unique, interactive and thrilling entertainment I have ever had the pleasure to work with! They went above and beyond to delight my guests, used personalized scripts created just for our event, and were the talk of the Conference for days afterward. The entire troupe was incredibly professional, beautifully costumed, and extremely talented. I would highly recommend them to any Event Planner looking for something really exciting and different. Thank you Phantasmagoria for providing an experience to remember!"
Rachel Wyce, Meeting Planner & Executive Assistant Franchise Brokers Association
"Phantasmagoria is a great addition to our event. They bring entertainment in dance with fire and more. They add a unique atmosphere to our event. Great professionals who can truly entertain. Our attendees look forward to seeing them at our event. We highly recommend Phantasmagoria they are a class act."
– Tom Raupp, Show Promoter Daytona Beach Comic Book Convention
"And what a show it was! My guests oohed and aahed at the fire dancing and thrilling feats of sword swallowing, laughed as they were treated to waltz lessons from the professional dancers and sighed at the graceful beauty of the cellist playing in the foyer. It's been months since the party and my guests are still talking about how incredible the show was! I highly recommend Phantasmagoria for any event, large or small. Their professionalism and unique talents are unmatched!"
– Jennifer Dempsey, Private Function, Birthday Party
"Phantasmagoria offers audience members richly costumed, dazzling entertainment. With their immersive style of performance, Phantasmagoria features fire breathers, dancers, stilt walkers and more, all performing in front, to the side and behind the audience. . . .Phantasmagoria is unmatched in Florida for their craft and dedication to engaging audiences."
– Jennifer Marvel, Executive Director Audubon Park Garden District
 Contact Us